Labeling is Cool! Literally!
December 2, 2012 in Containers, Kitchen, MyVinylDirect, Projects, Shopping Your Home, Simply Designed, Simply Organized by Andrea
I'm thrilled to bring you my first post sponsored by My Vinyl Direct! Over the next few months, I will be using their fantastic products to organize and decorate around my home, and hopefully inspiring you to do the same. If you would like to purchase from MyVinylDirect, you can find a link below or the right sidebar that will take you to their store. Now, let's get started!
Today we are taking a look into my fridge to see how it went from chaotic to blissful, all with the help of some vinyl and a plan. First, the before:
Honestly, it could be worse. However, it is still disorganized enough that I ended up buying a few repeats of things like barbecue sauce and salad dressings simply because I lost track of the originals in the mess.
First I did a giant purge and clean. I put all of my perishables into a cooler with some ice packs while I did this and I recommend you do the same. This can take anywhere from 30 minutes to 2 hours (I took about an hour) and you wouldn't want anything to spoil while you work. While you are taking everything out, check the "best by" dates and toss anything past its prime. Then comes the soap and water. Luckily the fridge is fairly new so I haven't had sufficient time to really get it messy. A quick wash with warm water and some mild dish soap was all that was needed. Now would be a great time to line your shelves and bins with Fridge Coasters or a DIY version of those made with place mats (this is what I did!) or Glade Press n' Seal so it's even easier to clean next time.
Next comes the organization part of the equation. Take a moment to just look at your empty fridge and think about the logical place for everything to go. What do you use most? Are there specific places designed to hold certain things? Where do you naturally put things? Don't forget to think about healthy habits as well. This might take a while and several tries, but if you take your time with this step you will be happier in the long run. Don't get overwhelmed; organization is a process and everyone (even the pros!) need to reevaluate their systems from time to time. You can do the same later if you find something isn't working out for you.
I like to group everything by type, and then store them with containers and amount of use in mind. For me this meant that fruit and veggies had to be front and center along with the water, salad dressings, and my husbands sandwich fixin's. My fridge was blessed with many bins, but if you find yours lacking, you can pick up some extra containers. I like Fridge Binz because they are clear, but you might want to shop your home for wicker, fabric or other baskets. Even a cardboard box covered with fabric or wrapping paper would work!
After you have everything clean and put back into place, you can start the fun part! I used my Silhouette Cameo to label the homes of the fridge residents so even my husband can help me keep things organized. I never have to go searching for the lost Italian dressing after he so generously helps unload the groceries because he knows right where I want it! Ah, the small secrets to martial bliss!
Here's the stats to recreate my labels: I used a single sheet of 12×24" lime-tree green matte vinyl. Please note that I didn't uses the entire sheet so I have extra for another project. Everything is written in the free Leelawadee font in a 140pt size. Feel free to create your own, but because you guys are so awesome, I've made my file available for free downloading here. (You must have the Silhouette Studio software downloaded)
Once I cut my vinyl words out and weeded off the extra vinyl, I moved the words to my paper transfer tape and cut the individual labels. Then I used my squeegee tool to adhere them to their new spots. Pretty as a picture!!!
One last Before/After shot to really get the full effect:
BEFORE                                                                                 AFTER
I love that everything is visually organized now. Because everything is labeled, it should stay that way. I really love the pop of color both the place mats and the vinyl bring to my fridge. Even appliances deserve to be spectacular! I keep going to my refrigerator just to take a peek inside. I think that is the true mark of a job well done.
Thank you so much for following along with this project. If you have any questions, please leave me a note in the comments and I'll try to answer it to the best of my abilities. Good luck and have fun!
Linked up at: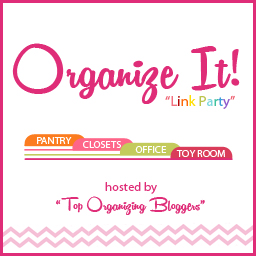 Featured At:
Click here to read my FTC Disclosure.
Related Posts via Categories